WooCommerce for Beginners
If you want to sell your products online without building a totally new site, or you're exploring the different e-commerce options for WordPress, look no further. WooCommerce is the perfect solution to help you build a fully-functional online shop with ease.
 In this guide, we'll go over the key WooCommerce features you need to know, as well as, how to make the most of the plugin so that you can maximise your site's selling potential!
What is WooCommerce?
In summary, WooCommerce is an open-source e-commerce WordPress plugin that allows you to transform your existing WordPress site into an e-commerce platform. The plugin has been installed over 39 million times and 42% of all online e-commerce sites use it, making it more popular than both Magento and Shopify.
With the plugin, you can sell both physical and digital products, ship your products globally, accept different types of payments and customize your shop even further with WooCommerce themes and extensions.
This is a great option for those who are looking to take their products online for the first time, as well as existing online shop owners, as it's simple to use and customise so you can make your shop your own.
How much is the WooCommerce plugin?
One of the best things about the WooCommerce plugin is that it's completely free! You won't be charged for the main plugin, however, they also sell hundreds of extensions that you add to your site to customise it even further.
WooCommerce features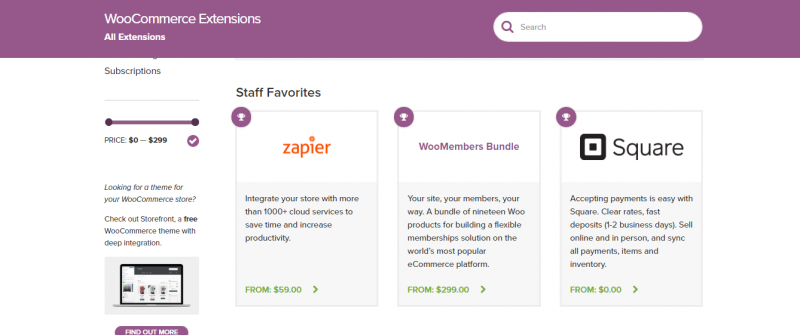 Regardless of whether you're a solopreneur with a modest product offering, or a large corporation with an extensive product portfolio, you can use WooCommerce to create an online store that will work for you and your customer's needs! Below, are some of the main features that you can take advantage of:
A range of themes to choose from
WooCommerce have their own official 'Storefront' theme, which you can use to create your online shop and can customise even further with additional extensions. However, you don't have to opt for this theme alone.
WooCommerce is built to work seamlessly with existing WordPress themes, therefore you won't have trouble finding a theme that you love that's also compatible with the plugin.
List an unlimited number of products
If you're wondering 'how many products can WooCommerce handle?', the answer is unlimited! There's no ceiling on the number of products you can add to your site, therefore you won't have to restrict your product offering.
There's also no limit to the number of variations that you can have for each product, allowing you to give your customers more choice.
Easy store management
Once you've built your shop, you'll need to keep on top of elements such as orders, shipping and customer accounts, and with WooCommerce you can do all of this and much more!
You can give your members of staff the permissions to manage orders without giving them full admin access, giving you the freedom to delegate tasks with ease. Alternatively, you handle store management yourself and add extensions to make order fulfilment quick and easy.
WooCommerce alternatives for WordPress
If you're looking to explore other options to WooCommerce, there are a range of other plugins that you could use to build your e-commerce site, including:
MarketPress
WP eCommerce
Cart66
JigoShop
The plugin you go for will largely depend on your experience with WordPress, your budget and the nature of the products that you want to sell.
Let us do the hard work for you!
Regardless of whether you want to take your current e-commerce shop to the next level, or you're completely new to the world of WordPress and web design, we'll work closely with you to help you build your ideal selling platform.
Learn more about or WordPress Web Development or contact us today to see how we could help you!