A Guide to Local SEO
Due to an increase in smartphone usage and better Wi-Fi and connectivity in outdoor spaces and public areas, more people have the ability to search for local businesses whilst they're out and about. Local SEO is all about increasing your online visibility to people searching for businesses like yours in the local area, thus helping you to attract a stream of new customers.
If you're a brick and mortar business looking for new ways to attract customers and increase your footfall, read on to learn more about local SEO and how to use it to your advantage.
What is local SEO marketing?
In summary, the definition of local SEO is:
"Using 'Search Engine Optimisation' techniques to promote brick and mortar businesses to customers in the local area."
The local SEO definition differs from the definition of organic SEO, because organic SEO involves optimising your website so that it ranks for relevant keywords. The key difference is that with local SEO you're focusing on driving people to your physical business, whereas organic SEO revolves around increasing your website's online visibility.
Example:
A Google search for the 'best french restaurant' brings up the following results: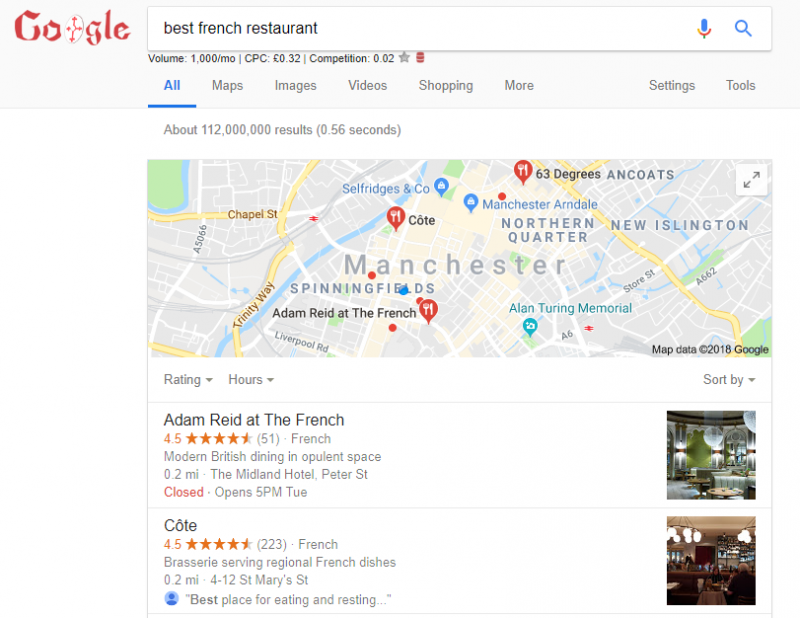 This shows local SEO in action as the search brings up results from the local area (Manchester), rather than results from other parts of the country or world. Making sure your website or establishment appears in these searches can help you to attract customers that are looking for businesses like yours whilst they're actually in the area, giving you a better chance of securing new customers.
Why is local SEO important?
Research has found that 97% of people looked online for local businesses in 2017, and 12% look for a local business every single day. Local SEO is important because it helps you to tap into this demand and satisfy the needs of customers that are nearby.
The benefits of local SEO
There are a range of benefits of local SEO, including:
Attracting new customers - Local SEO helps you to increase your online visibility to those in the local area, thus helping you to attract new customers and clients.
Minimising wasted time and resources - Targeting locals is more productive than targeting non-locals if you're a brick and mortar business, therefore you can minimise waste by using local SEO techniques.
ROI can be easily calculated - Regardless of whether you enlist the help of a local SEO agency or you choose to go it alone, your marketing spend can be compared with your business growth and you can easily see the return on your investment and how local SEO has contributed to your business' success.
Organic SEO vs local SEO
Despite having different aims and techniques, there are some similarities between organic and local SEO. For example, they're both concerned with increasing your business' online visibility and attracting new customers.
There are also some key differences to be mindful of. With organic SEO you must have a website to optimise, whereas with local SEO you don't have to have a standalone site but you do have to be listed on online directories such as Google My Business and Yelp, so that customers can find you.
In addition to this, with organic SEO you don't have to have a physical business to promote, you simply need a website. With local SEO you must have a physical business location.
How to do local SEO
To get you started, we're providing our exclusive local SEO tips so that you can maximise your online visibility and get new customers for your business.
Create and optimise your Google My Business page
If you've got a physical store and you're not on Google My Business, what are you waiting for! This is essential for local SEO as it can help you to increase your chances of showing up on Google Maps and organic search results on the whole.
Once you've claimed your free listing on the Google My Business website, you can optimise it by completing tasks such as: filling in all of the information possible, adding a booking button feature and adding 'posts', to name a few.
Optimise your meta titles and descriptions
If you have a website, you'll need to make sure that the metadata is fully optimised to increase your sites online visibility. This involves updating your meta titles and meta descriptions with relevant location-based keywords. This will make your website more search engine friendly, and increase your chances of ranking for local search results.
Example:

Utilise online business directories
As mentioned earlier, you don't need a standalone website for local SEO. Instead, you can utilise online business directories such as Yelp, Yell and Thomson Local. Make sure the local directories that you choose are reputable, well-established and trusted to give yourself the best chance of attracting new customers.
Looking for help with digital marketing and local SEO in Manchester?
If you're new to SEO in general, it can be a daunting task trying to figure out how it all works and how you can use it to your advantage. But not to worry, we're here to help! Hit the button below to contact our digital marketing and SEO company in Manchester, and let us help you to successfully market your business online.
Contact Us