Essential WordPress Plugins for Your Site
Whether you've just started your own blog, or you're the proud owner of a fully-fledged e-commerce site, there are a wide range of essential WordPress plugins out there that can make running your website that little bit easier.
As one of the top web development companies in Manchester, it can be said that we're well versed with the world of WordPress (if we do say so ourselves). That's why we're offering up our suggestions for the WordPress plugins you need for your website.
1. Yoast SEO
Yoast SEO is probably the most well-known SEO plugin on WordPress and one of the best free WordPress plugins you can get. This gives you the opportunity to improve your site's SEO without the need for a detailed knowledge of SEO and coding, making it a great WordPress plugin for blogs.
Once the plugin is installed, your content and posts will be assessed for readability and SEO and given a score. The scores include 'good' (green), 'OK' (orange) and 'needs improvement' (red).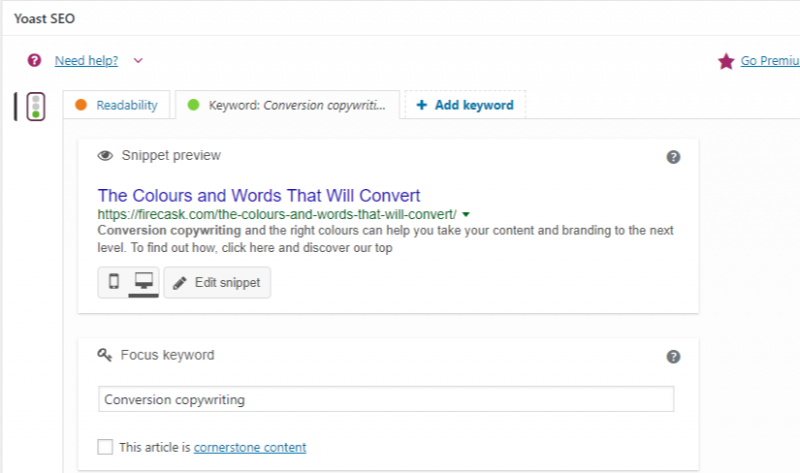 In the example above, the content was given an 'OK' score for readability and a 'good' score for SEO based on the focus keyword that was entered. However, the great thing about the Yoast SEO plugin is that you will also get suggestions on how to improve the SEO of your website posts. For example: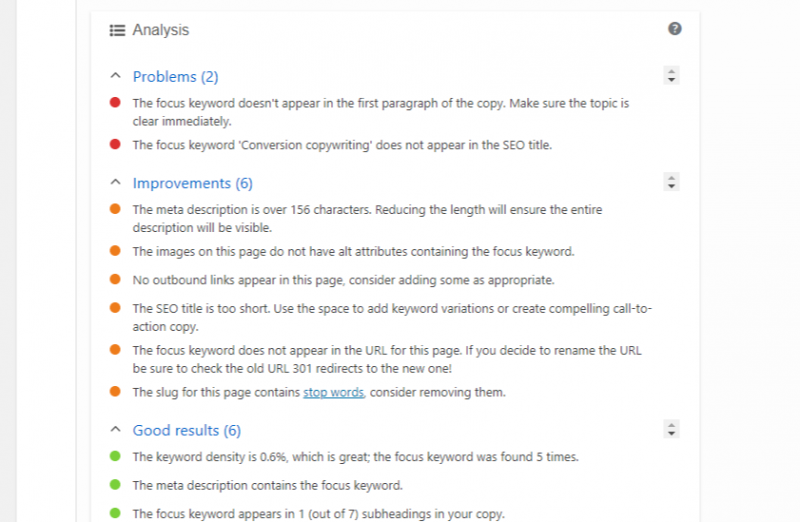 Even if you have little to no knowledge of SEO, the Yoast plugin is set out simply and effectively making it easy for those of all abilities to use.
2. Contact Form 7
Contact Form 7 is a no-nonsense plugin that allows you to add a number of contact forms to your site. Once the plugin is installed and set up, you'll be able to manage, customise and edit your forms with ease.
For this plugin, you'll require a tiny bit of coding knowledge, however, if you're new to this, there's an easy guide you can follow to install and setup your Contact Form 7 plugin here.
3. Broken Link Checker
It's a good idea to check your links every so often as having a lot of broken links on your domain can have a negative impact on your site's SEO.
The Broken Link Checker plugin will help you to see all of the broken links on your blog, as well as helping you spot any redirects that are in place. Once you've found all of your broken links, there are a range of actions that you can take using the plugin. This helpful guide for the Broken Link Checker plugin goes through all the features of the tool.
4. MailChimp for WordPress
This plugin allows you to connect your MailChimp account to your site so that your website visitors can sign up to your mailing list with ease.
MailChimp for WordPress comes with a whole host of useful features, however, some of the best ones include:
Creating 'sign up' forms
Integration with WooCommerce
Customising your forms
Viewing your reports and results
Whilst there is a free version of the plugin available, the Premium version comes with a range of additional features that would be ideal for businesses and e-commerce sites.
5. Smush
If you want to save time resizing your high-quality website photos, the Smush image compression and optimisation plugin can help you to do just that.
With this, you can resize, compress and strip-down your images without sacrificing quality. This can help you to improve page load time, thus enhancing the UX and SEO of your site.
6. Akismet
There's nothing worse than spam. Whether it's in your emails or on your website, it can be a nuisance keeping on top of spam and making sure it doesn't harm your reputation. That's where the Akismet plugin comes in.
This clever tool checks and filters all spam comments, shows comments 'status history' and blocks the worst spam so you don't have to worry about repeat offenders.
Best of all, the plugin is free for personal blogs, making it an easy and affordable way to keep your website clean and spam-free.
7. Insert Headers and Footers
Simply put, this plugin lets you put code into your headers and footers. This includes custom CSS, HTML and Javascript code, Google Analytics code and Facebook Pixel code, to name a few.
No matter what the theme, with the Insert Headers and Footers plugin you can add code to your headers and footers with ease!
8. BackWPup
Regularly backing up your site gives you peace of mind that should anything go wrong, your site and files are protected. The BackWPup plugin can help you save your whole site installation and back it up to your chosen server so that your information is safe and secure.
These are just a few of the FireCask team's recommendations for the essential WordPress plugins for your site. Think we've missed any? Leave us a comment below! And of course, get in touch with us today if you're in need of expert WordPress development services in Manchester.