The Top 15 Essential Free Chrome Extensions for SEO
There's a Google Chrome extension for almost everything out there, which is a blessing when it comes to optimising your website properly. Whether you're conducting keyword research or you're looking into different sites' metadata - you can almost guarantee that there will be a Chrome extension that streamlines the task, making your job that little bit easier.
To save you endless hours of searching through the Chrome web store, we've compiled a list of the top 20 free Chrome extensions for SEO that you can utilise on a day-to-day basis. Read on to discover FireCask's favourites!
1. Web developer
The web developer extension provides you with an overview of everything, from page structure to JavaScript page load elements. Once installed, you'll see an additional toolbar on your browser with new developer tools available. This allows you to view a webpage in detail without the need for additional software.
2. SEO meta in 1 click
This extension is an excellent tool for viewing meta titles and descriptions, as well as existing canonical pages, header tags and small optimisation tags like header images.
With this tool, the clue is in the name: 'SEO Meta in 1 Click'. All you need to do is click on the add-on to you'll be able to uncover the main SEO information for any site.
3. Ayima redirect
Ayima redirect lets you know if pages are redirecting, where to and what type of redirect they are. It will flag up 301, 302, 404 and 500 HTTP status codes, as well as showing Meta and Javascript redirects. This can help you to uncover and resolve issues with client's sites quickly and promptly.
4. Ayima page insights
This plugin allows you to see on page SEO errors, as well as HTML and tagging errors on URLs and gives insight into where they're placed and recommendations for fixing errors that are found. This can help to expose any SEO errors and technical issues that could be harming your site.
5. Tag assistant
This is a useful tool that helps you to distinguish what tracking is present on websites and identify tracking issues. The tags that are checked with Tag Assistant include:
Adwords conversion tracking
Google tag manager
Google analytics
This add-on will also suggest improvements so that you can remedy any problems you find.
6. Keywords everywhere
Keywords everywhere is one of the best free Chrome extensions out there, and it is essential for any individual or business carrying out SEO.
With the tool, you can see accurate search volume, CPC & competition data right in front of your eyes on the SERP, without having to open a separate keyword research tool. This can save you a lot of time if you want to find the search volume of something quickly, and it's great for both short tail and long tail keyword research.
Not only that, but it also hooks up with Google search, Google search console, Youtube, Amazon, eBay, Search console, Ubersuggest, Answer the Public & more.

7. Wayback machine
The Wayback Machine add-on can show you older versions of a website. This helps you to keep track of website changes made by clients or competitors, as well as helping you to retrieve any lost backlinks.
8. Wappalyzer
With the click of a button, wappalyzer can tell you what technologies a website is using. Again, this is great for looking at competitor sites to identify what CMS they are using, and finding information on their server, framework or analytics tools.
9. DeepCrawl indexability checker
Simply put, the DeepCrawl Indexability Checker informs you whether the page you're accessing is indexable or not. The page you're visiting will go into one of five categories:
Non-200
Noindex
Canonicalised
Paginated
Indexable
To can find out what each of these categories means, click here.
10. GTM sonar
The GTM sonar chrome extension essentially measures clicks through from Google Tag Manager, and allows you to see clicks firing and which elements on the page are performing well and which aren't.
11. Lighthouse
This handy little tool can help with audits from a mobile perspective. It can give helpful load speed insights as well as usability tips, all of which can help you to improve the mobile version of your site.
12. Google PageSpeed insights
In summary, the Google PageSpeed insights extension shows you a load speed indicator without going into the specifics. This can give a quick indication on what needs improving and where. It gives you an easy to read colour code on what is good, okay and bad about the page, so you can easily see what needs improvement.
13. Majestic backlink analyser
The Majestic backlink analyser is one of the best SEO tools for chrome that you can get. With one quick click, you can see the trust flow and citation flow of a web page, as well as information on the number of external backlinks and referring domains for both the URL and the root domain. This provides a lot of useful SEO information in just one click.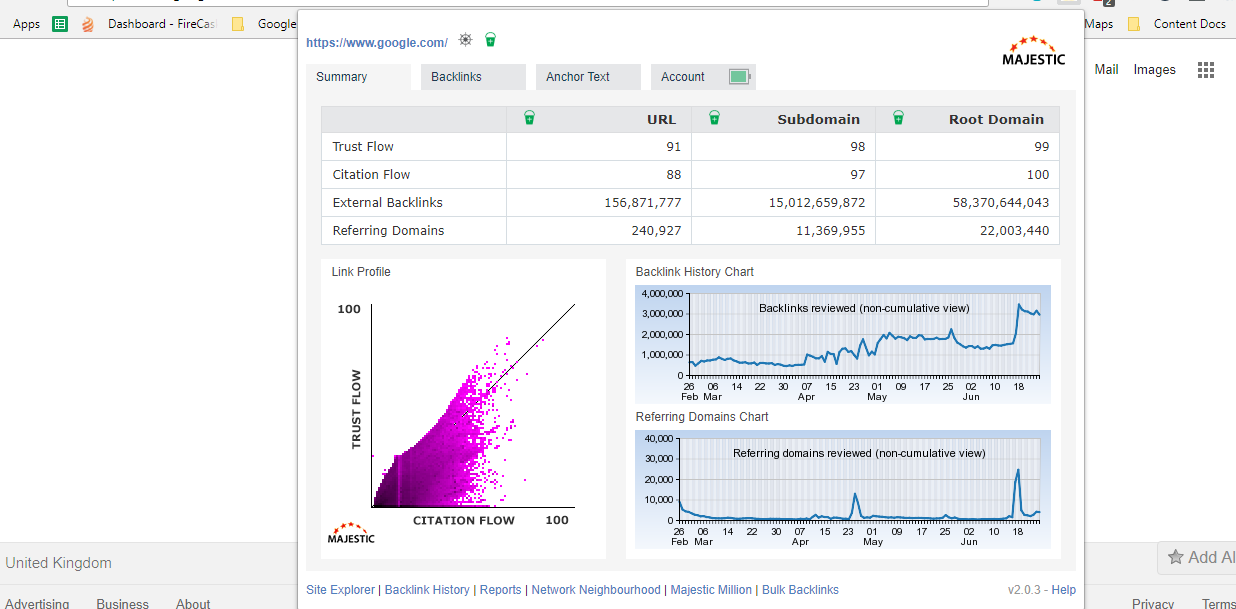 14. SEO tools for Chrome
With the SEO tools extension, you get a wealth of handy SEO tools in one - making it ideal for anyone who doesn't want to mess around with a number of different tools. Some of its main features include:
Keyword position checker
Meta tags analyser
Plagiarism checker
Page speed checker
15. Hunter
If you're looking to build links and increase your website's online presence, the Hunter extension is SEO chrome tool for you. This allows you to 'hunt' out different email addresses for the site that you're on, as well as their job role, social media page and name. This can help you find the contacts you need with ease, and help you with outreach and link-building tasks.
If you're new to the world of SEO, why don't you let us do the hard work for you? Our expert team of SEO specialists in Manchester can help you to achieve your business goals, no matter how big or small! Get in touch with us today to see how we could help your organisation.