FireCask Team Celebrates a Huge Response to Christmas Charity Project
If there's ever a time of year to go a little hands on with charity work, it's Christmas. So that's what we did! And what a success it was.
At the start of the month, we launched our very own reverse advent calendar at our new offices in Prestwich. The idea, as you can imagine, is that it's an advent calendar "in reverse", so instead of receiving something every day, we give something to a good cause instead. Genius! Not entirely our idea, as much as we'd like to take credit, but still a good way for us to motivate people to get involved. 
After a long discussion over what would be a particularly good cause (especially at Christmas time), we settled on the local Salford Foodbank as our chosen charity, and began making daily donations to a hamper that we kept in the office. 
Here's the amazing part. Having turned our offices in Prestwich into a drop off point and announcing our project on social media, we invited everyone in the village to come and take part.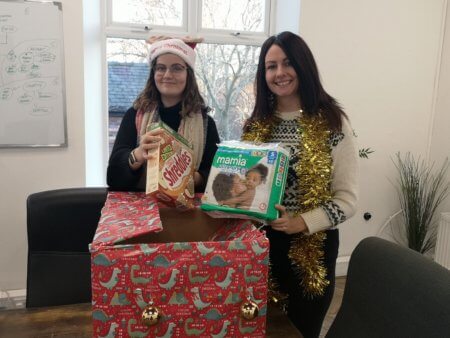 The donations came flooding in! Our very own Anna Moss from Basil & Lily sent some supplies, followed by the owner of Prestwich's Bargain Booze, and even some of the local residents who wanted to participate.
Before we knew it, there was an absolute mountain of stuff in the FireCask meeting room, from babies' nappies to shower gel, gloves, hats and all types of food items, all waiting to go to those that need it most this Christmas. 
Project Manager, Max Gruber, said "It just goes to show how well people come together for a good cause when they get the opportunity." He added: "We didn't expect such a response.
"But before we knew it, we had tons of stuff that was donated from local businesses and local people from around the village. It has been a brilliant success. We're over the moon."
Mark Whittington, Salford Foodbank Manager said: "We are very grateful for local businesses like FireCask donating over the Christmas period.  
"So far in 2019 we have given out over 5,000 emergency food parcels to local people in crisis which is a 20% increase compared to the same period last year. Donations given by FireCask will help ensure we can continue supporting families and individuals who are struggling to afford to put food on their table"
See press coverage for the reverse advent calendar here.