The Benefits of Interactive Content Development
Long-form blog posts and guides come with a wealth of advantages, but sometimes the best way to get your message across to the consumer is by bringing this content to life. That's where interactive content comes in!
Interactive content gives you the opportunity to engage with your audience, drive conversions and create memorable experiences for your target consumers. In this guide, we'll give you a little bit more insight into what interactive content is and how to use it to take your marketing activities to the next level.
What is interactive content?
Interactive content is content that requires active participation from the consumer - this does not include simply reading a blog post or watching a video. The consumer will often receive personalised, relevant results as a reward for their efforts.
This gives you the opportunity to add value and provide an experience that the user or customer can actually benefit from.
The different types of interactive content
In reality, there are countless different types of interactive content, however, some of the more common examples include:
Calculators
Polls
Quizzes
Questionnaires and assessments
Interactive infographics
The options above are simply a guide for the different types of content that you could produce. From this, you can create unique pieces of content that will encourage and drive conversions from your target customers.
Interactive content examples
We've produced a range of different types of interactive content for our clients. Below are a couple of examples so that you can see how interactive content works in action.
The Vitabiotics Wellness Score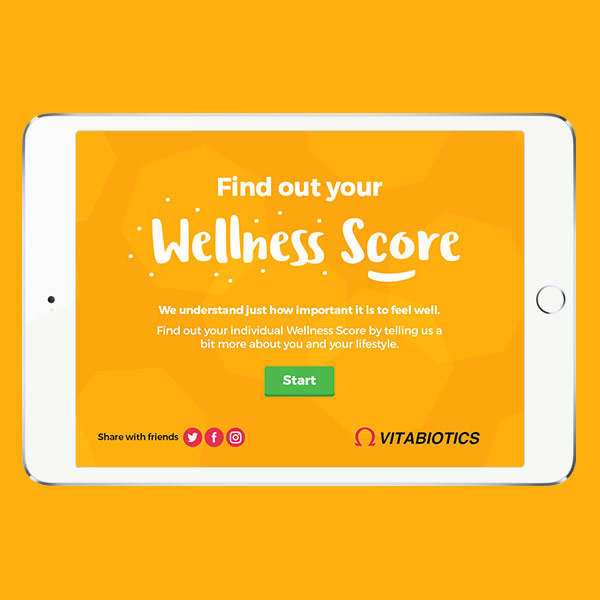 We recently worked with Vitabiotics on the Wellness Score, an interactive assessment whereby users enter anonymous information on their health and lifestyle habits. Users are then given a personalised 'Wellness Score' and offered helpful tips on how to maintain or improve their score. The tool helps to provide more information on what it means to be 'well' and the steps that could be taken to improve wellness even further.
Find out more about this project on the Wellness Score case study page.
The Expedia Edinburgh FestivalFindr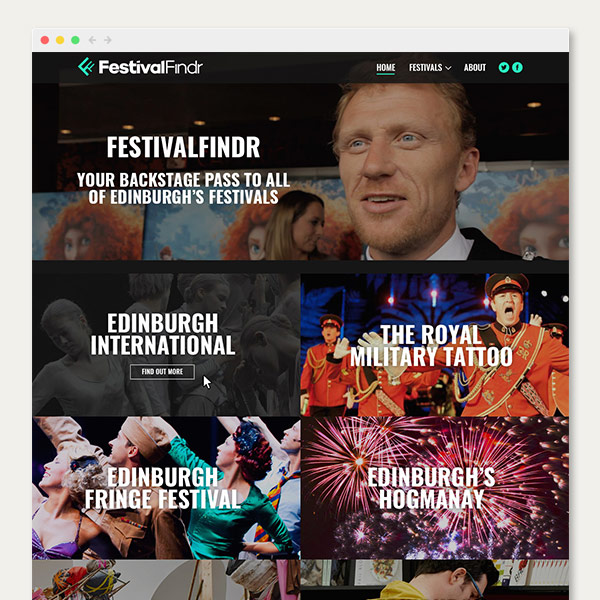 In 2017 we worked with Expedia on their Edinburgh FestivalFindr, which was created with the aim of providing extensive information on what Edinburgh has to offer, as well as offering suggestions on the best places to stay during the busy festival period.
The microsite encourages users to click through to different areas and learn about Edinburgh's famous festivals, food, bars and accommodation.
Read our Expedia Edinburgh FestivalFindr case study for more information on this project.
What are the main benefits of interactive content?
No matter whether you're a startup looking for ways to target and retain potential consumers, or you're an established organisation exploring new methods of interacting with your audience -  there's no limit to the ways you can benefit from interactive content development. Read on to learn about some of the main advantages.
Increased engagement
Due to its nature, interactive content will always have higher engagement rates than traditional content. However, you could increase your content's potential even further if you produce a high-quality piece of interactive content that creates a positive and purposeful experience for the user.
Obtain relevant data about your customers
Assessments, quizzes and polls create data that is invaluable for any business. Good content will not only attract users' attention, it will also help you to extract relevant data that can help you provide more tailored marketing messages.
It's important to note that with the upcoming GDPR changes, you may need to change the way you obtain and retain customer data. Our guide to GDPR for G-Suite users can help you prepare if you use G-Suite to store customer contact details or other data.
Interactive content not only gives more you room for creativity, you can also create lasting content that will be appreciated for years to come. If you're looking to bring your content to life, get in touch and see how we could help!